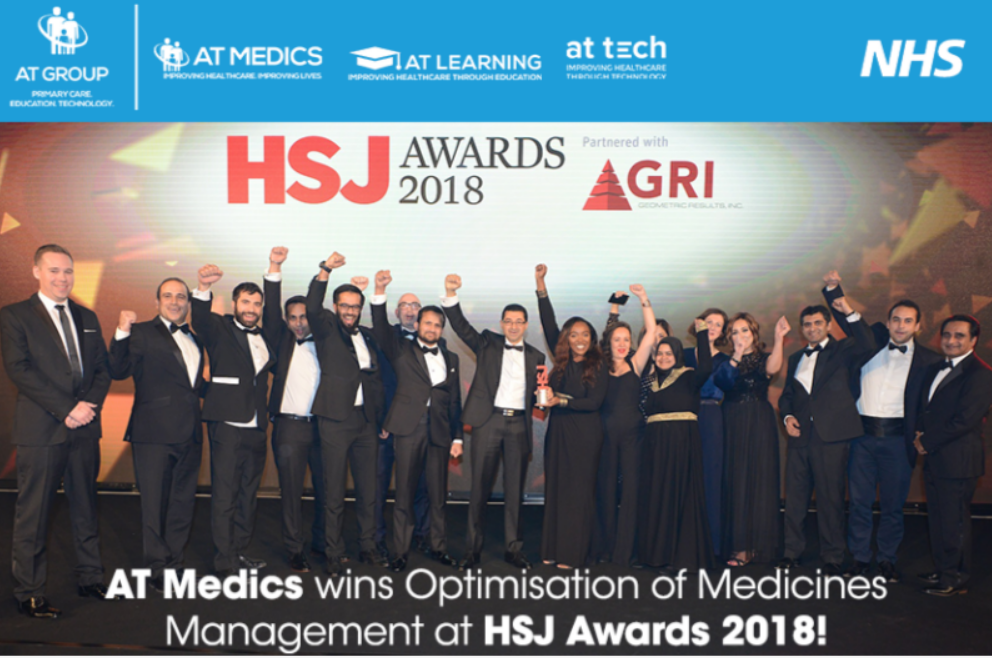 AT Medics award winners at HSJ Awards 2018
On 21 November, the awards ceremony for the HSJ Awards 2018 was held at the Intercontinental London, The O2 where AT Medics was announced as winner of the Optimisation of Medicines Management category in recognition for the AT Medics Central Pharmacy Team. Following an exhaustive judging programme, AT Medics scooped one of the coveted prizes at the world's largest healthcare awards programme featuring 1,500 entrants across 26 categories.
After being announced as a finalist in early September following a rigorous shortlisting process, AT Medics presented to a judging panel of senior and influential figures from the health sector who made the final decision.
HSJ editor Alastair McLellan said: "Congratulations to AT Medics on winning the Optimisation of Medicines Management category in the face of stiff competition from other entrants. In this historic year for the NHS we were inundated with applications demonstrating continued determination to deliver first class healthcare, harnessing the latest innovations while ensuring value for money. AT Medics impressed our judging panel with evidence of their enduring commitment to excellence in healthcare.
"I hope that AT Medics will be a source of inspiration for teams across the country as they seek to innovate and improve service provision. The HSJ Awards continue to be the gold standard awards programme in healthcare and I'm confident this award will be a tremendous boost to everyone at AT Medics."
Guidance on medicines optimisation is not in short supply. But at AT Medics – a provider of GP services to over 270,000 patients – utilised its business intelligence tool (EZ Analytics) to identify and visualise a significant gap between best practice and practical application.
To address this, a central pharmacy team was created. The mission of its members: to enhance and optimise medicines management and improve the quality of prescribing and prescribing safety.
Through further analysis of business intelligence data, the team identified patients whose medicines had been managed sub-optimally. These individuals' records were reviewed by pharmacists, who either contacted the patient to offer advice over the phone – with follow ups at result intervals – or invited him or her to a face to face appointment. This consultation is, again, typically with a pharmacist.
Since the introduction of the approach, there have been significant improvements. Among them: a 53% reduction in the number of people with asthma who are taking beta blockers; a 43% reduction in patients with a long-term repeat prescription for non-steroidal anti-inflammatory drugs (NSAIDs); a 26% improvement in the monitoring of patients on disease-modifying anti-rheumatic drugs(DMARD); a 64% improvement in the completion of lithium monitoring; and a 71% improvement in the number of patients on warfarin who are receiving appropriate monitoring.
Read the full detailed case study about AT Medics Central Pharmacy Team on the HSJ Solutions website >>
In addition to the Optimisation of Medicines Management award, AT Group achieve three other finalist positions:
The 2018 HSJ Awards come as the NHS marks its 70th birthday, celebrating those who continue to innovate and drive forward improvements in healthcare, delivering quality outcomes for patients, while ensuring the best in value and effectiveness.
Notes to editors
About HSJ
HSJ is the only title to cover all aspects of publicly funded healthcare, providing news, analysis, best practice information and advice from the most powerful people in health, for the most powerful people in health.
The HSJ audience is formed of healthcare leaders from both clinical and non-clinical backgrounds and both public and private sectors.
HSJ is an intelligence and premium events service which unites healthcare leaders with their peers through online, mobile, social media and face to face at awards ceremonies, conferences and bespoke events.
HSJ Awards
The most coveted accolade in UK healthcare the HSJ Awards is the largest annual benchmarking and recognition programme for the health sector. The finalists and winners represent the best in healthcare excellence.
AT Medics
26th November 2018