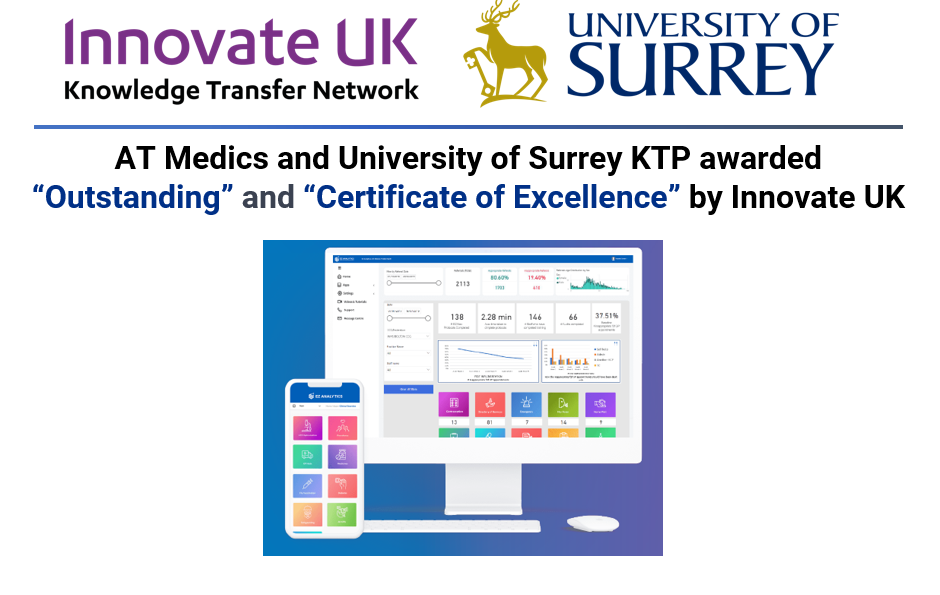 AT Medics and University of Surrey KTP awarded "Outstanding" and "Certificate of Excellence" by Innovation UK
AT Medics, London's largest provider of core primary care services, celebrates another Knowledge Transfer Partnership (KTP) success with University of Surrey, after receiving the highest grade of 'Outstanding' together with a 'Certificate of Excellence' by Innovate UK for its recently completed KTP.
This interdisciplinary KTP project team involved Professors Simon de Lusignan
(School of Biosciences and Medicine), Paul Krause (Department of Computer Science) and Lampros Stergioulas (Surrey Business School), who collaborated with AT Medics Primary Care Director, Dr Aumran Tahir and the KTP Associate Dr Alireza Ettefaghian.
The partnership, part-funded by Innovate UK and AT Medics, was initiated to assist in the progression of AT Medics' healthcare Business intelligence (BI) capabilities, enabling the team to apply their expertise to solve real-world problems. This enterprising initiative allowed Surrey academics to increase their understanding of the challenges faced by GP providers and the NHS. They gained first-hand experience by working with AT Medics during a time of exponential growth and organisational development. AT Medics is a leading primary healthcare provider managing 37GP surgeries across London, caring for a combined population of over 240,000 patients.
For AT Medics, the partnership resulted in the progression of their BI capabilities. This includes decision support through valuable insights into anonymised patient data but also allows rapid assessment, comparison, evaluation and improvement to performance in each GP surgery or at-scale across the organisation.
In turn, the academics involved in the KTP gained valuable insights, which may inform the University's teaching and research, and result in publications in key medical journals.
An ongoing relationship continues between AT Medics and University of Surrey, offering opportunities for further collaboration, student engagement, placements and recruitment as well as guest lectures.
The legacy of the KTP is EZ Analytics, a BI platform developed to provide an easy way to improve population health, accelerated through AT Medics' technology partner, AT Tech who deliver health technology solutions to the NHS and other healthcare settings. AT Medics will continue its investment in innovation and research, as an organisation renowned for a strong culture of innovation and the necessary in-house skills and capabilities to produce new and improved solutions.
Primary Care Director, Dr Aumran Tahir, added: "I am proud that this Primary Care developed healthcare business intelligence solution has been produced by GPs both working at the coal-face and in academic circles, and that it is meaningfully used to improve patient care. The key aspects of why this works for us is the simplicity of its use (the user experience) as well as its scalability and visual presentation. Our business intelligence solution has become a nucleus of our organisation and is used in all of our meetings to help inform decision making, whilst also drawing attention and a national reputation as a solution for GPs and providers everywhere. Working with Surrey on the progression of our solution has been a great pleasure and very useful."
Dr Alireza Ettefaghian, the KTP Associate, said "KTP is a unique and exciting opportunity to lead a strategic project in an industrial setting whilst maintaining connections with academia. I received invaluable support from the company, the KT Adviser and, importantly, the University team who helped aid my development and accelerate my career path."

AT Medics
3rd February 2018